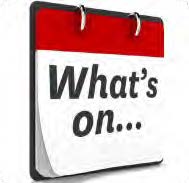 Details for these events are on the board in the Church foyer.
Mass for people with Special Needs – Sunday 19th Nov at 9.30am at OLOR.
Worldwide Marriage Encounter Weekend – 24-26 Nov. Mt Carmel Retreat Centre, Varroville. Ph: 0490 774 419. Bookings online at www.wwme.org.au
St Leo's Under the Stars Movie Night – Friday 17th Nov. 6.15 for 7.30pm.