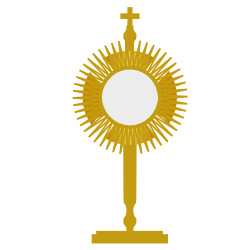 This month on 17th & 18th March, Pope Francis has called on churches around the world to keep their doors open for 24 hours to allow people to come in and sit in prayer in Adoration, and have access to reconciliation.
The 24 Hours for the Lord in our parish will commence at 10am on Friday, 17 March and conclude at 10am on Saturday, 18 March.
We would like to make sure there are enough guardians able to keep watch and stay with the Blessed Sacrament as it is exposed, especially during the evening hours on Friday and early morning hours on Saturday. Please contact the parish office if you would like to be a guardian. Click here to email.   Tap here to call
Please note: 11.50am – 1pm School Mass
The 2nd Rite of Reconciliation will be held at 5.30pm – 6.30pm on the Friday, 17 March.
Tea and coffee will be available in the parish meeting room throughout the 24 hours.