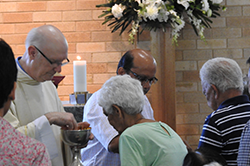 Additional Liturgies.
Listed below are the additional Liturgies and spiritual group meetings occur within the parish.
Ecumenical Prayer Services
We visit the retirement villages regularly throughout the year and share our spirituality and friendship with the residents.
Sacramental
Anointing of the sick and prayer services are held three times a year in hostels, nursing homes and retirement villages.
Anointing's and Masses are held three times a year in retirement villages followed by lunch.
Special Masses in the parish church
Anointing Masses are held three times a year at St Agatha's Church followed by morning tea.
Individual Anointing upon request is always available.
A Remembrance Mass is held in November followed by supper.
Details are in our parish bulletin and posted on our web site some time before the Masses.
Bible Study Group
Bible study is held on Tuesdays during the school term at the Callahan Centre (opposite the Church)
10.30am to 12 noon.
Lenten Groups
Lenten Groups are held over the Lent period at the parish or in individual homes. These provide for an opportunity to review the Gospels of Lent in a prayerful and reflective environment with fellow Christians. Please call the Parish Secretary or 02 9484 1427 for more information.
St Agatha's Catholic Parish,
Pennant Hills, NSW 2120
PO Box 127, Pennant Hills, NSW, 1715
20 Boundary Road, Pennant Hills NSW 2120, (Enter through Trebor Road – see Map)
Phone: 02 9484 1427